Timeless and elegant kitchens for all generations
Kitchens equipment & ergonomics
Kitchens that save time and your body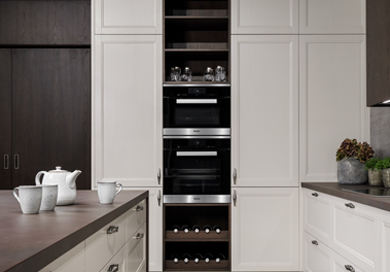 Ergonomics
Do you have a problem in your current kitchen that you constantly have a difficult time moving from place to place to achieve everything you need? It is an "ailment" of the past, when the production and design of the kitchen forgot the correct ergonomics – the proper placement of typical zones within the kitchen so that everything is logically and ideally at hand.
In a properly planned kitchen, you will save every step and, most importantly, time! By planning the individual zones, you will achieve a meaningful arrangement that will make your work easier, and food preparation will become more fun and enjoyable!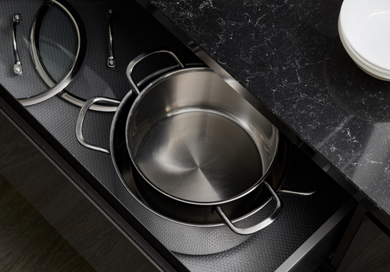 Internal fittings
You can make kitchen work more pleasant by using the various gadgets that we offer as internal accessories. There are plenty of large and small gadgets which you will appreciate. You might not even have heard of some of them yet!
Hanging systems
Pull-out dividers
Wooden drawer organisers
Lighting
Servo-drive drawers and pull-outs
Orgaline
And others…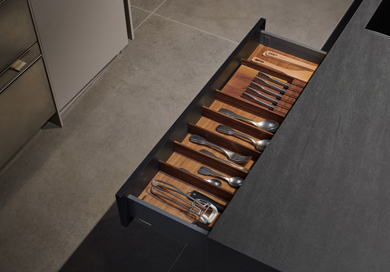 Drawers
For our drawers we have chosen the best from the BLUM company.
The elegant LEGRABOX box system, which has been awarded many times at international level, will impress you with its simple and slim design, elegant sideboards, comfortable guide system and easy use. Bearing capacity range of 40 kg and 70 kg.
LEGRABOX is available in three motion technologies:
BLUMOTION – smooth running and silent closing
SERVO-DRIVE – electric touch control
TIP-ON – manual touch control
It is perfectly complemented by the new AMBIA-LINE internal division system. A well-organised range of frames with variable use offers many layout options.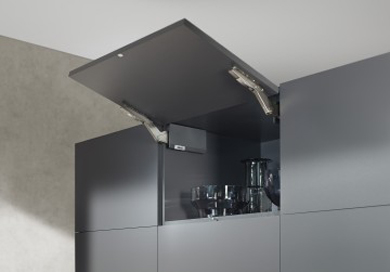 Tilt-out cabinets
The upper cabinets are fitted with first-rate tilt-out doors produced by BLUM. You can choose the type that will ergonomically best fit your kitchen.
AVENTOS HL
With Aventos HL, the single-piece front glides up in parallel.
AVENTOS HS
With Aventos HS, the single-piece front tips over the body.
AVENTOS HF
With Aventos HF, the two-part front folds down when opened in the middle.
AVENTOS HK
With Aventos HK, the single-piece front tilts up.
AVENTOS HK-S
Aventos HK-S is designed preferably for small tilt-out cabinets.